Posted by:
Saresa
in
Rants
,
Warlock
I'll admit, I enjoy being prepared.  I like knowing that I am ready for any situation, that no matter what happens, whether it be everyone dying in a gigantic fire (happens a lot), me blowing shards putting up summoning portals when one is already there (also happens a lot), me being asked to put up a summoning portal RIGHT NEXT TO THE GOD DAMN DOOR (also happens a lot!)  … well, no matter what pain in the ass situation happens, I like knowing that I will have enough shards to see the raid through.
Then Blizz came along and stomped on my shiny little world with their ridiculous 32 shard limit.  Bastards.
Yes, I realise this is old news.  'But it's been like this for AGES now Sar!  Have your knickers been in a knot about it for this long?  You'll do yourself an injury!'
Well… I'm just mad about it tonight.
This here is how I used to raid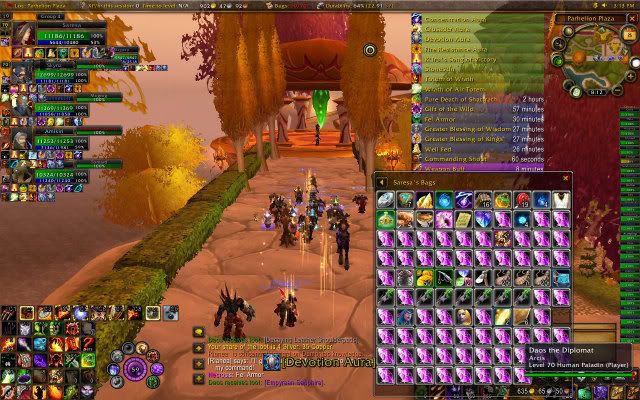 That's 59 shards right there.  Enough for summoning, for pet killing, for soulshattering every time the cooldown was up, for healthstoning and soulstoning… you name it, I could do it.  Sure sure, shards are easier to come by now… but if we sit there wiping on a boss all night, I don't want to have to gimp my damage and hurt the raid by having to drain soul for 5 fricking minutes on a fight!
Tonight, I kept running out.  We wiped a few times, and all of a sudden I was down to 5 shards.  That wont last me 5 minutes in a boss fight! 
I'm a lock.  I like souls.  I like collecting the souls of many people, and keeping those souls in my bag, waiting for me to put them to nefarious uses.  Now I feel like I have been getting ripped off for all these years.  My total belief system has been undermined.
Those shards must not truly represent a whole soul.
Think about it.  If I can get multiple shards off one mob (or person!), then either they have more than one soul, or I am getting just a minute fraction of it.  Talk about being totally unevil.  That's merely an inconvenience!  A flesh wound!  First Death Knights get the monopoly on evil, and now this?
I'm going to kill some kittens until I feel better.